YOU CAN MAKE IT HAPPEN.
COATES HIRE CAREERS.
At Coates Hire, we know that it's our people that makes the company great. That's why we're always on the lookout for talented, driven people who want to make things happen.
JOIN THE COATES HIRE TEAM AND YOU CAN MAKE IT HAPPEN.
Coates Hire is Australia's largest equipment hire supplier We're an iconic brand with an enviable track record. With 150 branches, we offer an enormous number of roles and opportunities right across Australia. Just as importantly, we're committed to working with each and every employee to map out stimulating career paths and opportunities that help them to reach their full potential. At Coates Hire, you really can make things happen.
WE'D LOVE TO HEAR FROM YOU.
It's the unique blend of people and the contribution they each make that drives the success of Coates Hire. If you want to be part of a supportive, caring team that is committed to making things happen for you, for our customers and for Australia, please email NationalRecruitmentTeam@coateshire.com.au. We'd love to hear from you.
THE COATES HIRE EMPLOYEE EXPERIENCE.
Here's what our CEO and team have to say about the Coates Hire employee experience.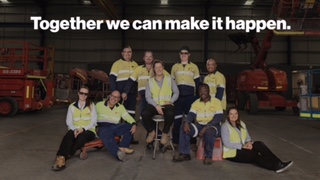 DIVERSITY AT COATES HIRE.
Coates Hire is an equal opportunity employer, which respects the individual. Diversity and inclusion is at the very heart of our culture, because we believe together we can make anything happen. We are committed to continually increase our diversity across the workforce, including leadership levels. We actively encourage all people to apply for all current agencies.