A guide to choosing the right shoring solution for deep excavation
During excavation, steel shoring and bracing provides the necessary support to allow for permanent structures to be built. But did you know that choosing the right type of support is an important part of ensuring the safe, efficient and cost-effective delivery of temporary works?

To shore up large excavation sites, a contractor can typically choose to:
Fabricate a bespoke structural steel solution, or

Hire a proprietary, modular propping and shoring system from a provider like Coates.
Although proprietary solutions are still relatively new in Australia, customers are increasingly seeing the benefits of this approach. Here are some important factors to consider in choosing the right type of shoring solution for your next excavation.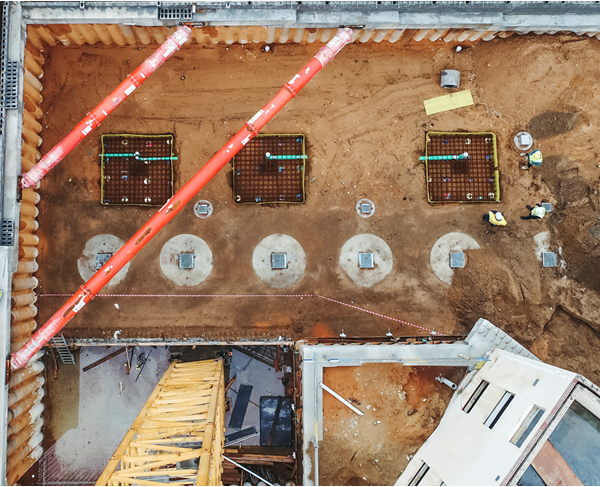 Availability
According to David Dragicevich, National Technical Engineering Manager at Coates, how quickly a shoring solution needs to be sourced and deployed is a major consideration for shoring customers, particularly given the steel shortages the Australian construction industry is currently experiencing.

"Our entire fleet is already located in Australia and conveniently based around the capital cities, making it an accessible and convenient option for many customers," says David. "Conversely, the size of the structural steel elements required for shoring can make structural steel solutions harder to procure in Australia right now, and too time-consuming to source from overseas."
Installation and removal
The speed and ease of installing and removing proprietary propping is another compelling advantage to the proprietary approach.

"Often customers will experience some discrepancy between the excavation site and their designs," David explains. "With structural steel this discrepancy requires additional cutting and welding on site, but our system is very flexible by design, allowing for quick and safe adjustments, and precision installation."

"Coates' props feature hydraulic rams that can extend or contract to achieve the required length," he continues. "Even with a major discrepancy, the modular nature of our system means we can simply add or remove sections without waiting on additional steel."

Performing as much pre-assembly as possible off site further reduces the labour hours required for installation. "In many cases props are simply taken off the truck and placed in the installation location," says David.
Safety
While the installation process for structural steel is notoriously hazardous, pre-engineered lifting points mounted on all Coates' equipment make lifting and handling relatively safe and easy. The fact that no cutting or welding is required also makes it a much safer alternative to structural steel.

"In addition to these features, a telemetry system can be paired with Coates' proprietary shoring solution, allowing it to be monitored in real time," says David. "This lets us see what forces are being applied, and set alerts for when something isn't behaving the way that it needs to."
Cost
The cost of proprietary propping depends on length of hire so it won't always be the most cost-effective solutions – but that needn't exclude this type of solution, argues David.

"Coates' scale gives us the flexibility to make proprietary solutions work for our customers and fit their budget, so we certainly encourage customers to chat with us before deciding on an approach," says David.

And while proprietary propping won't suit all applications, its lifespan can make it more cost-effective in many cases. "We don't need to cover all of the manufacturing costs in the first use," says David. "Unlike single-use structural steel, we build this cost out across the lifecycle of our equipment."
Sustainability
Proprietary solutions typically outperform structural steel environmentally, a factor that is becoming increasingly important for construction industry customers. "Structural steel is essentially single use, but our fleet has a life span of 10-20 years," says David. "The fact that we might deploy one asset hundreds of times means the environmental impact of manufacturing that equipment is as little as 1-2% of a structural steel alternative."

Coates also uses high-grade steel, creating a high strength-to-weight ratio. "Providing an extra 20-30% of capacity for the same weight of steel not only makes our system more sustainable, but it also supports safer installation too," says David.
Deploying tried and tested solutions
In addition to supplying quality proprietary propping and shoring equipment, Coates' turnkey approach gives customers access to in-house technical design and engineering services, backed up by an experienced team of project managers, product specialists, installation experts, and chartered engineers to certify final designs and installations.

"Essentially what you get when you deploy structural steel is a prototype, because you are fabricating a new solution just for that site. But a proprietary solution offers more assurance to customers having been tried and tested many times before," says David.

"The engineering process is also a lot easier with proprietary systems as we deliver them every day, so whatever challenge a customer is facing, it's likely that we already have considerable experience delivering a solution just like it."
For support on your next excavation project reach out or connect with the Coates Engineering Solutions team today.