Bringing four new coal loaders from Western Australia to Port Kembla required a big freight operation and a lot of equipment
The project
Port Kembla Coal Terminal in Wollongong was upgrading its coal loading systems to keep the Port's coal business viable for another 30 years, which means one new reclaimer and three stackers being installed at a cost of around $400 million.
The board of Port Kembla Coal Terminal (PKCT) mandated that the coal-handling machines be fabricated and constructed from Australian steel in Henderson, Western Australia, at the Australian Marine Complex (AMC). Henry Martignago, Construction Manager at PKCT, says the challenge was to transport the new machinery from the west coast of Australia, to Wollongong on the east coast.
The challenge
Before the coal-handling machines were shipped, PKCT had to upgrade its rail yards at Port Kembla to accommodate the new plant. PKCT then shipped the four giant machines on the heavy-lift vessel Jumbo Kinetic – a freight transport ship that has two 1,500 tonne-capacity cranes and can carry a deadweight of 14,000 tonnes.
"The reclaimer, alone, weighs 1,500 tonnes," says Martignago. "And each stacker is between 700 and 850 tonnes. The stackers were broken-down into large modules for shipping - the reclaimer travelled as one unit requiring a single dual-crane lift of 1,500 tonnes.
Once at the Port Kembla Coal Terminal, the modules had to be lifted off the Jumbo Kinetic and onto self-propelled modular transporters (SMPTs), which are multi-axle self-propelled trailers. The SPMTs transported each module onto berm extensions where they were assembled for commissioning.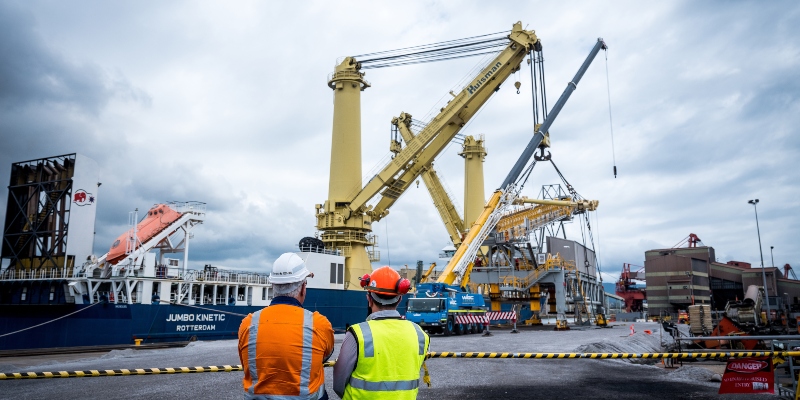 The solution
Jihad Salem, Account Manager at Coates and the Project Manager for the PKCT project, says the project involved a lot of Coates equipment including 13 welding machines, seven air compressors, 17 elevated work platforms, forklifts and telehandlers, and a range of LED lighting towers and power tools. Coates also constructed the 12-building contractors' village, which included buildings, toilets and power and also featured an underground waste tank to service 50 contractors.
"We supplied equipment for the ship-loading in WA and for the unloading at Port Kembla. We also supplied equipment for the rail-upgrade project at Port Kembla and for the commissioning phase. It was a $500,000 job over four months, on a large, complicated project." He says Coates has an advantage on jobs such as the PKCT project, because of the company's depth of fleet, and management systems that allow project-variations to be absorbed. "Everything we do is backed by on-call service, best-practice safety protocols and management of people and equipment," says Salem. "We had five Coates people on the job, and they were all safety-inducted for mining and ports work. We managed the compliance paperwork for our people and our equipment."
The impact
Henry Martignago, Port Kembla Coal Terminal Construction manager, says Coates was an essential part of the project team. "All the gear came from Coates. It wasn't an easy job – there were a number of variations and Coates was able to adapt and give us the support we needed."