Every day Coates Hire completes roughly 2,500 equipment pickups and deliveries across the country, making trailer safety an important part of our overall safety strategy and practices – and we know that it's important to our customers, too. Here we share some of the basic safety pointers that our teams follow to stay safe when connecting and towing trailers.
1. Choose the right vehicle and trailer
Simply having a tow ball doesn't mean a vehicle is suitable for towing all types of trailers and loads.
Compatibility: For safe towing, the vehicle you are driving, the trailer you are towing and the load you are transporting must all be compatible.
Know your loads: Before you connect your trailer, check that your vehicle is rated to tow your load, and be sure of the limit for your trailer too. If in doubt, consult the manufacturer handbooks.
Choose the right provider: When hiring a trailer, always choose a reputable equipment hire provider with current HSEQ accreditation, to ensure the safety and quality of all equipment that you hire.
2. Safely connecting your trailer
Before connecting your trailer check:
Whether you have a level surface to work on, to avoid trailer movement during connection;
If your bow shackles are adequately rated to secure the trailer to vehicle connection;
If your trailer (in particular the tyres and bearings) are in roadworthy condition.
With these checks complete, follow this 12-step guide to safely connect your trailer: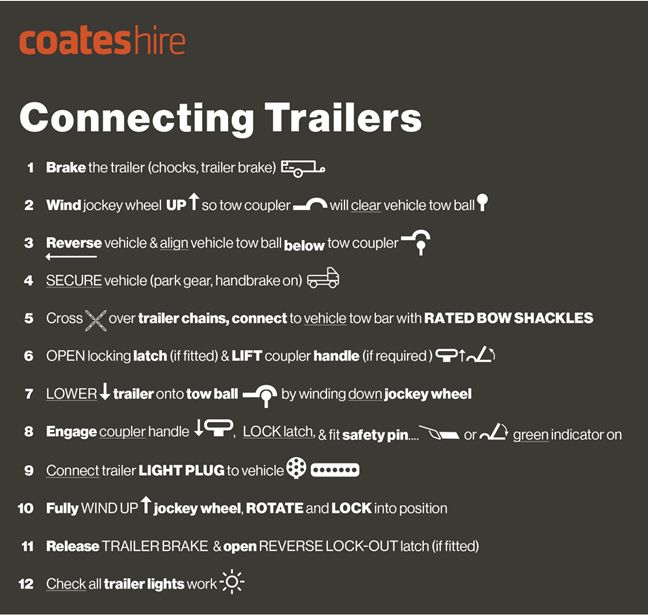 To safely disconnect a trailer, complete these steps in reverse order.
3. Safe towing
Whether you're driving with a caravan, a trailer or another car in tow, towing can be quite different to normal driving. It affects:
Acceleration – when starting out, overtaking and pulling into traffic.
Braking / deceleration – when slowing to turn or responding to changing traffic conditions.
Vehicle control and manoeuvrability – driving just feels different with something in tow.
Fuel consumption – an important consideration when driving in areas with limited refuelling opportunities.
Given these differences, some additional safety measures and driving skills are required when towing any load.
Evenly distribute weight across your trailer where possible.
Always properly secure your load, and because loads can move in transit it's also a good idea to stop and check restraints soon after setting out.
Allow for longer stopping distances and wider turns on curves and at intersections.
Stick to the speed limit, and unless turning or overtaking drive in the left lane in dual carriageways and highways.
Trailers can reduce visibility, so whenever possible use a spotter when reversing.
4. Final pre-flight checks
If your trailer is fitted with brakes, adjust them according to your load before setting out.
If your rear vision is completely blocked by your trailer, use extended side view mirrors.