When anchors couldn't be used for the basement structure, Coates designed an internal bracing system with 18m raking struts
The project
Construction has commenced at Liverpool Civic Place in NSW following the successful demolition, excavation and installation of temporary works on site. The project team comprises Built as head contractor and Robert Bird as structural engineer. Moits is responsible for the civil works and appointed Coates to design and supply a temporary works solution.

Due for completion in 2023, this highly anticipated mixed-use development will bring an array of new public spaces, community facilities and job opportunities to Liverpool CBD.
The challenge
According to Shereen Amin, Coates Senior Engineer for Structures, designing a temporary works solution to support the five-level basement structure, without bracing against the site's adjacent properties, proved extremely difficult.

"The original temporary works design proposed the use of struts anchored to the walls towards the two neighbouring properties," Shereen explains. "But when agreement could not be reached to install these anchors, the solution could not be implemented. This setback caused project delays and put pressure on the design team to find an alternative solution."

Custom fabricating a steel solution wasn't an option at this stage due to the availability of steel. Instead, civil works contractor Moits partnered with Coates to design a new hydraulic shoring solution that could be quickly and safely implemented.

"Given the time constraints it was reassuring knowing Coates had the equipment we needed ready for hire. We just had to find a way to engineer a solution that would accommodate the challenges we faced on site," says Alan Kok, Project Manager for Moits.
The solution
The final design – a hydraulic two-level basement retention system – was agreed after three months of painstaking collaboration with stakeholders. It incorporates 11 MP150 struts, arranged in two levels bracing from the rear wall to the ground, with 18m-long upper struts and 13m-long lower struts.

Although raking struts are commonly used in temporary works, applying them to retain an excavation of this depth is unprecedented. "In all my years of experience, I've never seen raking struts at this length," says Shereen. "Typically, they are used to retain excavations up to two basement levels, but there were no other viable solutions so we simply had to find a way to make it work."

Coates also managed the installation and will oversee de-installation once basement construction is complete.
Flexible and collaborative design
The design process needed to be flexible and collaborative to allow the shoring and basement designs to work alongside each other.

"We couldn't allow the strut placement to clash with any of the walls, columns or lift footings as these features will be built while the struts are still in place," says Shereen. "To achieve this design, we worked closely with Moits and Robert Bird, making refinements as required."
Remote monitoring
While the integrity of Coates' temporary works design is independently certified, the use of telemetry sensors to monitor each level of struts provides additional assurance until each strut can safely be removed. "These sensors provide the client with an early warning system, so if there are any changes to the loads alerts will be issued and dealt with immediately," says Shereen.
De-installation
De-installation is one of the most challenging aspects of this project, and a major consideration during design. "Coates has much larger hydraulic struts available but the MP150 struts were chosen to make the removal process possible," Alan explains. "It was one thing to get the larger struts into place, but it would've been too difficult to remove them through the slab openings after construction." Moits continues working closely with Built and Coates to refine the strut removal methodology.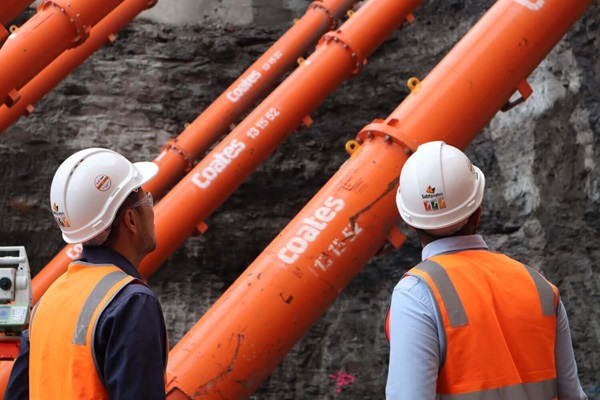 The impact
Liverpool Civic Place is one of the most complicated temporary works designs that Alan Kok recalls.

"The value in working with Coates actually became quite clear to me during the early brainstorming phase," Alan says. "That for me was the most fun, but also the most challenging, part of this whole project."

"Throughout this complex design process, Coates has driven us and brought forward new ideas and solutions on how we could make it work. We spoke regularly with their temporary works design engineer up to the design manager, so it felt like a whole of team approach," says Alan. "I also respect that giving up wasn't an option for Coates. Instead, they worked hard until we had the solution that we needed."
Connect with Coates today for expert advice on your next temporary works or excavation project. Or learn more about Coates Engineering Solutions