Recent legislative changes in NSW shifts focus to internal bracing systems
On 1 January 2022, changes to the Design and Building Practitioners Act 2020 (DBP Act) came into effect, creating new obligations for many practitioners working on Class 2 buildings in NSW. Here's an overview of the recent changes and their impact on the design and implementation of temporary works.
What's new in 2022?
One of the most significant changes affecting the provision of temporary works excavation shoring in NSW is the requirement for written approval from the landowners when ground anchors need to be installed under neighbouring properties. This change affects all Class 2 residential buildings, which includes multi-dwelling, multi-storey and mixed-use commercial and residential buildings.

"If you're delivering a Class 2 residential building in NSW and you plan to anchor beneath a neighbouring property, regardless of whether it affects public or private land, you must now have a legally binding written agreement in place," explains David Dragicevich, National Technical Engineering Manager at Coates. "This agreement must be uploaded through the NSW Planning Portal before a construction certificate can be issued, and before construction work can start."

The requirement for written approval creates the potential for project delays and could require builders and developers to rethink their shoring and bracing design if neighbouring landowners choose not to grant access.
Why have these changes been introduced?
The introduction of the DBP Act followed a series of high profile construction quality issues that emerged in NSW and other states. It forms part of broader industry reforms designed to deliver a more efficient and optimised planning system, to rebuild consumer confidence and to ensure the integrity and quality of construction for all new residential buildings.

"These recent changes help to address some of the quality issues around the planning and construction of residential apartment buildings in NSW and to improve the systems and processes that support residential construction," says Darren Browne, Temporary Works Engineer at Coates.

"Previously, it wasn't uncommon for builders to get verbal approval to install anchors beneath neighbouring properties and think that everything was in order, only for the agreement to be disputed when construction work commenced," Darren continues. "By seeking written approval up front all parties now have the assurance that an agreement is in place, or the direction to approach the design of temporary works differently, preventing delays and disputes like these."

How do these recent changes impact construction businesses?
To comply with the DBP Act, construction businesses must upload all necessary construction designs, documents and approvals for building certificates to be issued. However, as the portal is quite prescriptive about what needs to be uploaded, this process can be time consuming for construction businesses to manage.

If approval for ground anchors is not granted or if it takes too long to obtain, these requirements also have the potential to create unnecessary and costly project delays for many construction businesses.

That was the situation facing building group Ceerose at the Alex Collective, a residential development currently under construction in Alexandria, 4kms south of the Sydney CBD.

"Obtaining anchoring approval under a neighbouring building can take upwards of a year," says Jonathan Bayeh, Project Manager at Ceerose. "The developer went through the process of trying to get anchoring approval, but the new requirements of the DBP Act became a sticking point and effectively put work on hold."

Faced with licensing fees of more than $1 million and holding costs of upwards of $25,000 a day, Ceerose looked for an alternative solution to support construction of the basement. The firm engaged Coates to design, supply, install, certify and monitor an internal bracing system using MP hydraulic struts and Mega Brace walers.

"When you factor in the time and cost involved of seeking anchoring approval – including negotiations with neighbours, legal fees, licensing fees and holding costs – it will definitely end up being cheaper to internally brace," says Jonathan.
Advantages of an internal bracing system
"Designing an internal bracing system allows for robust and reliable temporary works solutions to be delivered, without any impact on, or permission required, from neighbouring properties," says David. "This approach also considerably reduces project risk as customers have a system that they know will work, the assurance that construction can start on time and that project schedules can be met."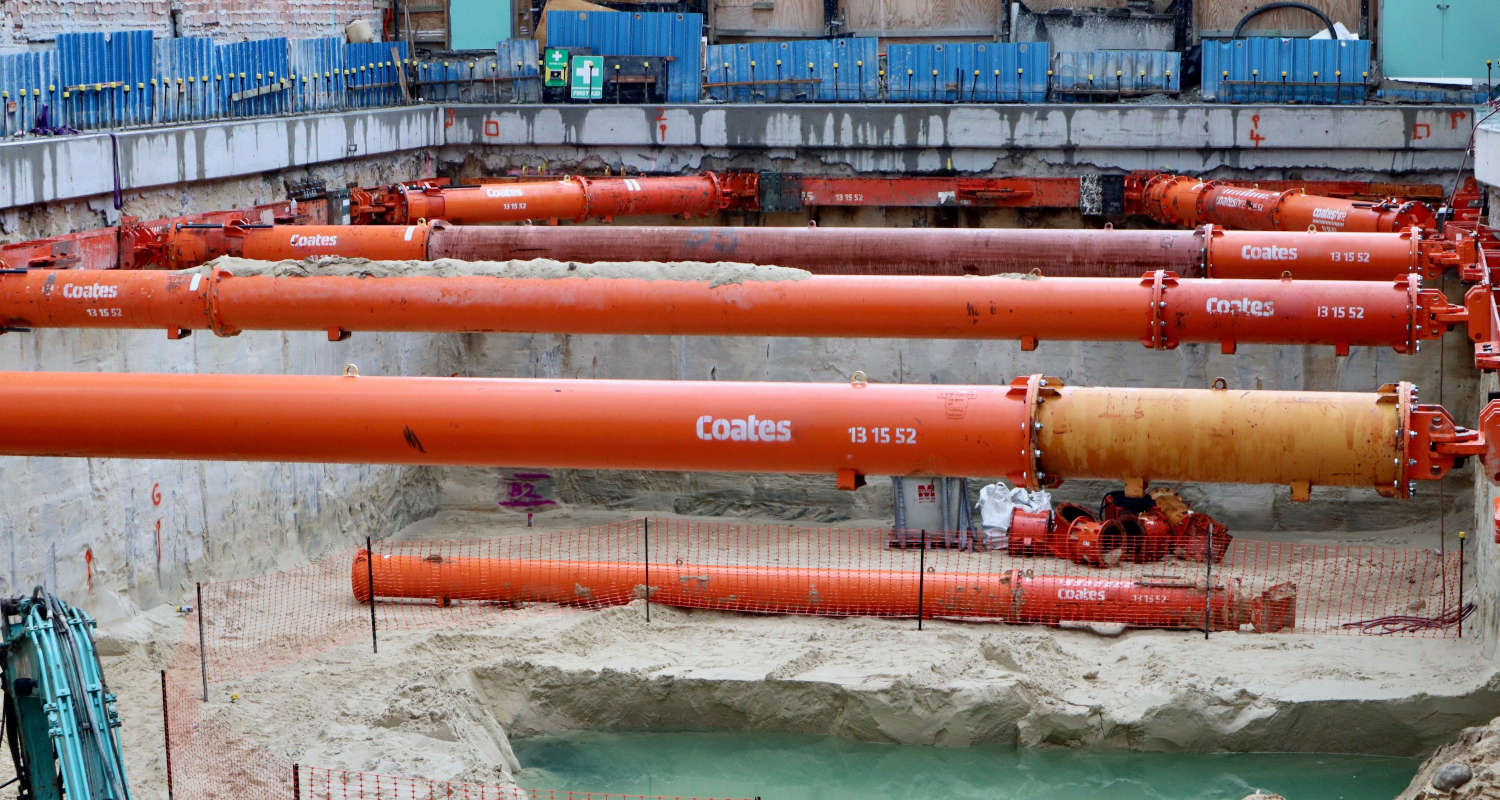 The experience that the Coates Engineering Solutions team brings to large scale excavations for basements, foundations and major infrastructure projects, and the level of support that is available, also brings considerable value and assurance to Coates customers.

"By having design and installation teams in-house, all of the equipment that customers need and the ability to manage all of the logistics from planning and certification through to installation and de-installation, we make it really easy for customers to deliver temporary works without any of the delays, surprises and setbacks that can come with delivering anchored shoring solutions," Darren continues.

Alongside recent changes in NSW, work is also underway to progress similar reforms in other states and territories. To find out more, speak to Coates or contact the peak construction industry body or administration in your location.
To discuss your temporary works challenges or to design a solution for your upcoming project, connect with the national Coates Engineering Solutions team today