Tool Stores
Quick and easy access to the right tools and equipment is vital for keeping your industrial or construction project on track. Let Coates power your next shutdown with a fully stocked, flexible tool store solution.
Full-time tool store management
We can supply an experienced team of tool store controllers and specialist trades to support your tool store, helping you to track, manage and optimise your asset and plant maintenance.
We'll manage all your tooling and equipment needs and work according to your schedule to provide 24/7 service if required. Our vast fleet and nationwide branch network means we can quickly scale up and down equipment to meet demand too.
Multiple tool store options
Staffed by our passionate team and powered by SiteIQ, our customisable tool store solutions include:
- Tool and equipment hire (240V, cordless and diesel)
- Consumables management (supplied or owned)
- Maintenance services (cleaning, test and tagging, and certifications)
- WHS compliance management (equipment certifications and VOC)
- Customised reporting via SiteIQ (daily or as required)
1. Mobile or permanent tool stores
Our mobile tool stores are suitable for projects of any size, complexity or duration, or we can manage your own permanent tool store on site. The modular units can be configured to suit your site requirements, creating an efficient one-stop shop for your workforce.
- 20ft x 8ft (6m x 2.4m) insulated storage containers with lighting and power sockets
- 3 internal configurations, combining shelving, racks and/or hooks for tools and rigging gear
- Insulated front counter/servery with AC, power and LED lighting
2. Tool store compounds
The modular design of our tool stores allows you to add annexes to create a larger compound. Save money on scaffolding and create a secure, versatile area that is ideal for managing on-site safety protocols such as pedestrian flow and quarantining returned equipment for cleaning.
- 20ft x 8ft (6m x 2.4m) insulated containers with lighting, power and AC
- Flexible frontage, including roller doors, servery windows, awnings and doors
- Internal charging points for radios, battery tools, monitors, kiosks, etc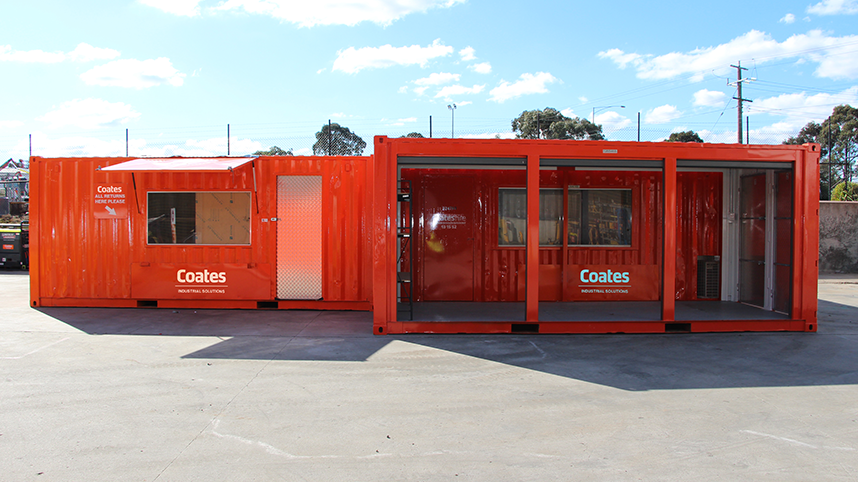 3. Tool trailers
Ideal for rail maintenance or smaller industrial or construction projects, our towable tool stores come stocked with your choice of barcoded tools, equipment and consumables. Hire unstaffed as a lump sum, or with Coates personnel to manage tool checkout and return via SiteIQ.
- 3m L x 2.4m W x 2.6m H trailer fits hundreds of tools or up to 3 tonnes of rigging equipment
- Self-tow with a 3-tonne tow capacity ute or we can deliver to site
- Roll in and out the same day or hire for as long as required
Consumables management
Tooling and equipment are not the only elements of a shutdown that can cause delays and increase risk if not managed correctly. As part of our commitment to providing end-to-end solutions, we can also manage your consumables requirements under the one PO. Operating out of the same tool store, we'll save you time in the planning phase and at site too. For example, if your tradesperson needs a battery drill, Coates can supply the drill bit, cutting fluid, gloves and safety glasses at the same time.
- 24/7 shutdown consumables support, including procurement, sourcing and reporting
- Consumables planning to match your tooling requirements
- Drill bits, grinding disks, welding rods, etc
- PPE and safety equipment
- Trade-specific gear such as electrical tape, cable ties, heat shrink etc
- Solvents and paints
- Advice on stock quantity, quality and compliance
- Inventory management (min/max levels, reordering, stocktake)
- Rules limiting quantities and types of goods to specific roles
- Consignment inventory to aid cash flow