Power Generation
Ranging from 3.5 kVA to 1250 kVA, Coates generators are designed and built to our own specifications to deliver in challenging Australian conditions. Keep your site running with a turnkey package, including installation and all supporting accessories, project management, refuelling, transport, maintenance and 24/7 on-call support.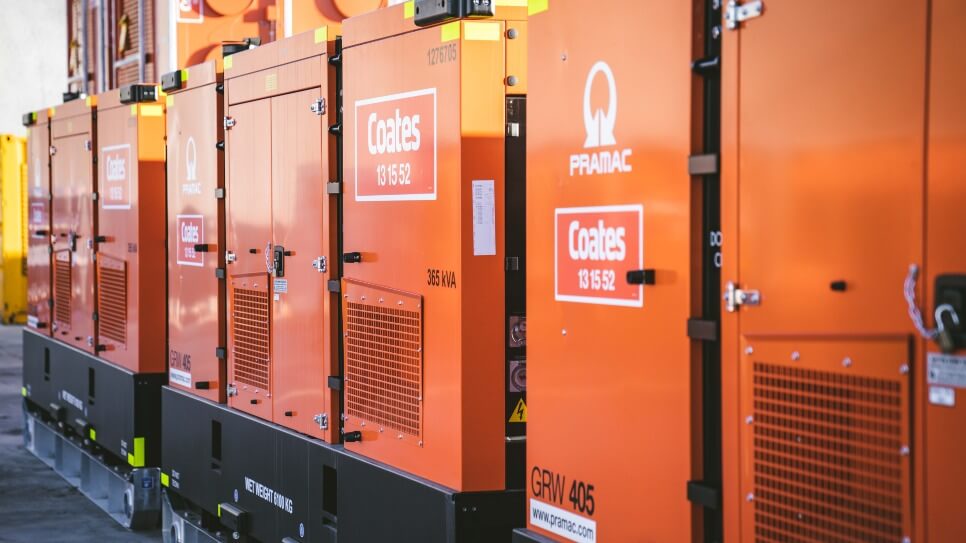 Gensets for small construction, residential, event and leisure applications
Need to power tools, lights, appliances, food trucks, caravans, temporary buildings or similar? Coates has one of Australia's largest fleets of petrol or diesel-driven gensets. Robust and reliable with certified lift points and plug-and-play capabilities, all our caged generators, towable trailers and skid-mounted generators are easy to transport, manoeuvre and operate.
Gensets for large construction, commercial and remote applications
Ensure your worksite has reliable temporary power with a modular skid-mounted or containerised generator. From standalone single generators to mains failure back up, primary and stand-by applications, our experienced team can provide an end-to-end solution, including silenced generators, power distribution accessories, fuel storage and supply options, and commissioning.
Scalable power solutions for major industrial, commercial or utility applications
Working alongside our Industrial Solutions team, Coates Power & HVAC can support on- or off-grid shutdowns, scheduled outages or maintenance of any size and duration, as well as prime power, back-up power and emergency support during a sudden power cut. We'll design a customised power solution with multiple generators operating in parallel to support critical loads reliably and effectively, based on load types, fuel requirements, switching scenarios, distribution needs, required protections and other crucial site-specific factors.
Real-time monitoring via telemetry
Coates offers real-time monitoring of generator performance and health to proactively detect potential issues, providing peace of mind and avoiding costly downtime. All generators 20 kVA and above are equipped to send alerts and notifications, while generators 200 kVA and above can be controlled remotely via internet or app.