James Naylor, our Executive GM in WA, shares his experience camping with students from the Clontarf Foundation on the Dampier Peninsula
"Recently, I had the opportunity to go on a four-day immersion experience in far north-west Australia with my 13-year-old son and students from the Clontarf Foundation's academies in Broome and Derby, as part of Coates' three-year partnership with the foundation.

Clontarf delivers school-based engagement programs, using sport as a hook, to improve the education, life skills, self-esteem and employment prospects for young Aboriginal and Torres Strait Islander men. Corporate partners such Coates support their work through funding and activities aimed at helping students transition into employment.

Since opening their first academy in Perth 22 years ago for around 25 boys, Clontarf has grown to more than 9,700 students across Australia today. I knew a bit about their work before our visit and was impressed by their trajectory, so I was eager to find out more – and, to be honest, I was blown away.

Our trip began in Broome, where we were lucky enough to have dinner with a few Clontarf alumni. Now working across various industries, the former students shared stories about their personal and professional journeys, providing a valuable insight into where this program takes people.

Early the next day, our group of about 10 partners, students and academy staff set off to spend two nights at a campsite north-east of Derby on the Dampier Peninsula. The location was absolutely stunning: an untouched natural environment filled with the most extraordinary wildlife. We saw snakes, stingrays, sharks and so many turtles, with dingoes around the camp at night.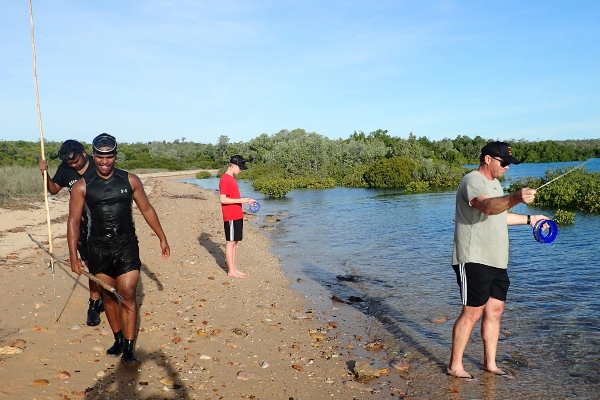 It was the perfect backdrop for a series of magical experiences that I know my son and I will always remember. Under the guidance of Derby Clontarf Academy staff members and local elder Trevor and his son, Trevor Jnr, we camped under the stars, snorkelled around reefs, went fishing and crabbing among the mangroves, made spears and took part in various adventure-based leadership activities.

But most importantly, it was a chance to get to know the students and to learn about their culture. For example, one young man, David – who loves soccer and lives in Derby – won't eat or hunt a certain animal because the last thing your father killed before you were born is your symbol. Learning about David's deep connection to the land was eye-opening for me and a humbling experience.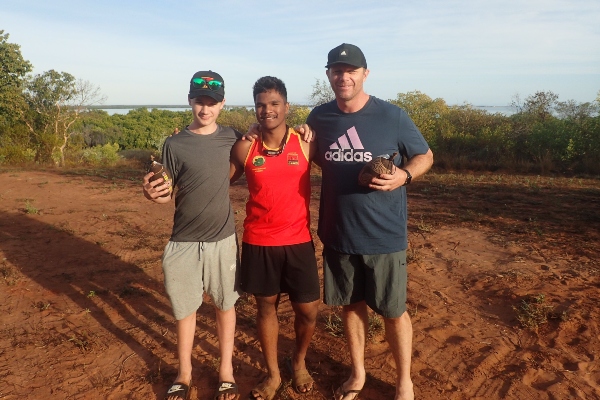 As our group built trust and rapport, it was extraordinary to watch the boys grow in confidence. At the end of the trip, each student stood in front of the group and introduced one of the partners with information they had learned about our lives and families. Public speaking is challenging for most people, so seeing these young men develop their skills and confidence was very rewarding.

One thing that became very clear to me during our visit is that the academy staff are fantastic role models, offering the boys a great balance of support and accountability so they can finish Year 12, get a job and build their life from there. Clontarf works very much in partnership with parents and communities, and it was evident the staff are very proud of what they do. There's no doubt they're making a difference and the impact is huge.

The partnership with Clontarf is a critical part of our Reconciliation Action Plan, and I'm so proud to support this program. Clontarf academies are located in many communities where Coates also operates, so there's a really strong alignment across Australia. We welcome graduates from this program with open arms and look forward to continuing to support the foundation in the future."

For more information about how Coates is supporting the communities in which we operate, please download our Sustainability Playbook