Discover how Site IQ could drive new efficiencies in your next shutdown or maintenance event
Coates is currently preparing to transition industrial customers from CHASE to the next-gen proprietary management system called SiteIQ. Here's a quick look at why Site IQ has been developed, the new features and functionality customers can expect, and the value the system will bring to customer operations during industrial maintenance events or construction projects.
Why develop SiteIQ?
After decades of software updates and upgrades, in 2019 it became clear to Coates that CHASE needed to be extended beyond its capability. "CHASE was originally developed in-house 26 years ago by a member of the Coates team who is part of the project team developing Site IQ," explains Rob Smith, Coates Shutdown and Project Manager, and a veteran user of CHASE.

"While CHASE continues to support many of our customers today, to continue adding valuable insight to major projects we need to be able integrate newer and smarter technologies," Rob continues. "The original system is non-scalable and end-of-life, so we needed to create a new ecosystem that can integrate current and upcoming technological trends. SiteIQ has been designed with this in mind."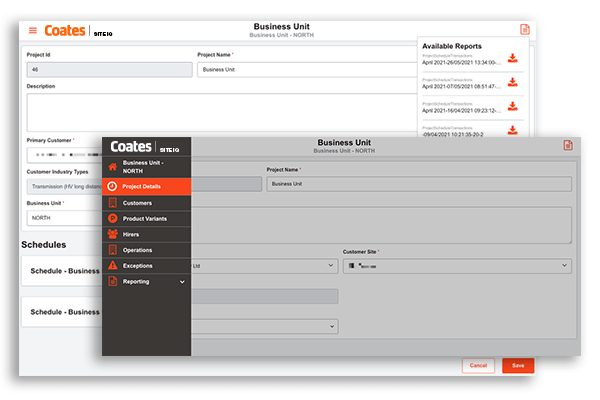 Building on the capabilities of CHASE
Used in conjunction with an on-site tool store, SiteIQ takes the best features from CHASE and integrates them with a range of new functionality and smart technologies. The result is a superior and highly customer-focused management solution available exclusively through Coates.

Like CHASE, SiteIQ is designed to manage and optimise tools and equipment on major industrial and construction sites. "It allows customers to hire tools and equipment, to understand how they are being utilised and manage changes to hire and pricing arrangements as projects progress," Rob explains. "SiteIQ is also much smarter and far more intuitive in the way that it allows us to support our customers."

Here's what's new:
Access:
As a cloud-based (rather than server-based) solution, SiteIQ offers better visibility and the ability to manage all tools, equipment, consumables and services in real time. It also allows customers and stakeholders to access equipment data and analytics from anywhere and at any time, regardless of the technology they have installed on their devices.
Future events:
SiteIQ's improved access to project data and intelligence also allows Coates to support customers in delivering future events far more efficiently. "Knowledge transfer can be challenging between major events, particularly when they are delivered years apart," Rob explains. "SiteIQ allows Coates to use data from previous events to help customers plan future events from a far more informed position the next time around."
Compliance:
Another important SiteIQ feature is its enhanced ability to store and connect customers with equipment certifications, load documentation and Verification of Competency (VOC). Seamlessly delivering this information through a Coates on-site tool store allows customers to more easily comply with site WHS requirements.
Asset scanning:
Innovations to the scanner technology that support SiteIQ will make it much faster and easier for customers to checkout and return tools and equipment anywhere on site, with or without a WI-FI connection. "Today's scanner technology is moving towards better continuity of data, supported by SiteIQ," says Rob.
Customer-focused functionality
Having managed shutdowns at Coates for over 20 years, Rob understands the importance of supporting customers and meeting their changing needs. "We treat every job as an alliance that allows Coates to add value to a customer's operations, and to build a deeper relationship," he says.

SiteIQ will open up new horizons for information sharing and project management and enhance the level of support that customers can receive from Coates during large-scale construction projects and industrial events. Some of the many customer benefits delivered by SiteIQ include:
"A good outcome for our customer is a great result for Coates," says Rob. "We are committed to providing the best support that we can and SiteIQ is an important tool for allowing us to do this."



When will Site IQ come to you?
After extensive testing, the first customer installation of SiteIQ will be delivered Q4 2022. Following a successful pilot, it will be made available to select customers who are keen to trial the benefits of this new technology.

"This is an exciting development for Coates and for our customers," Rob concludes. "I'm excited to see how it will shape our relationships and improve the project outcomes our customers can achieve."

For more information, talk to your local Coates representative or email industrialsolutions@coates.com.au